Hey #TrueFriends!
Congratulations to the 13 Winners of the Kirim uang Berbuah Emas program with Truemoney via Alfamart/Alfamidi which took place from July 1 to September 30, 2022. Winners were selected according to the Terms And Conditions of the program that had been set.
Here are 13 Winners of Kirim uang Berbuah Emas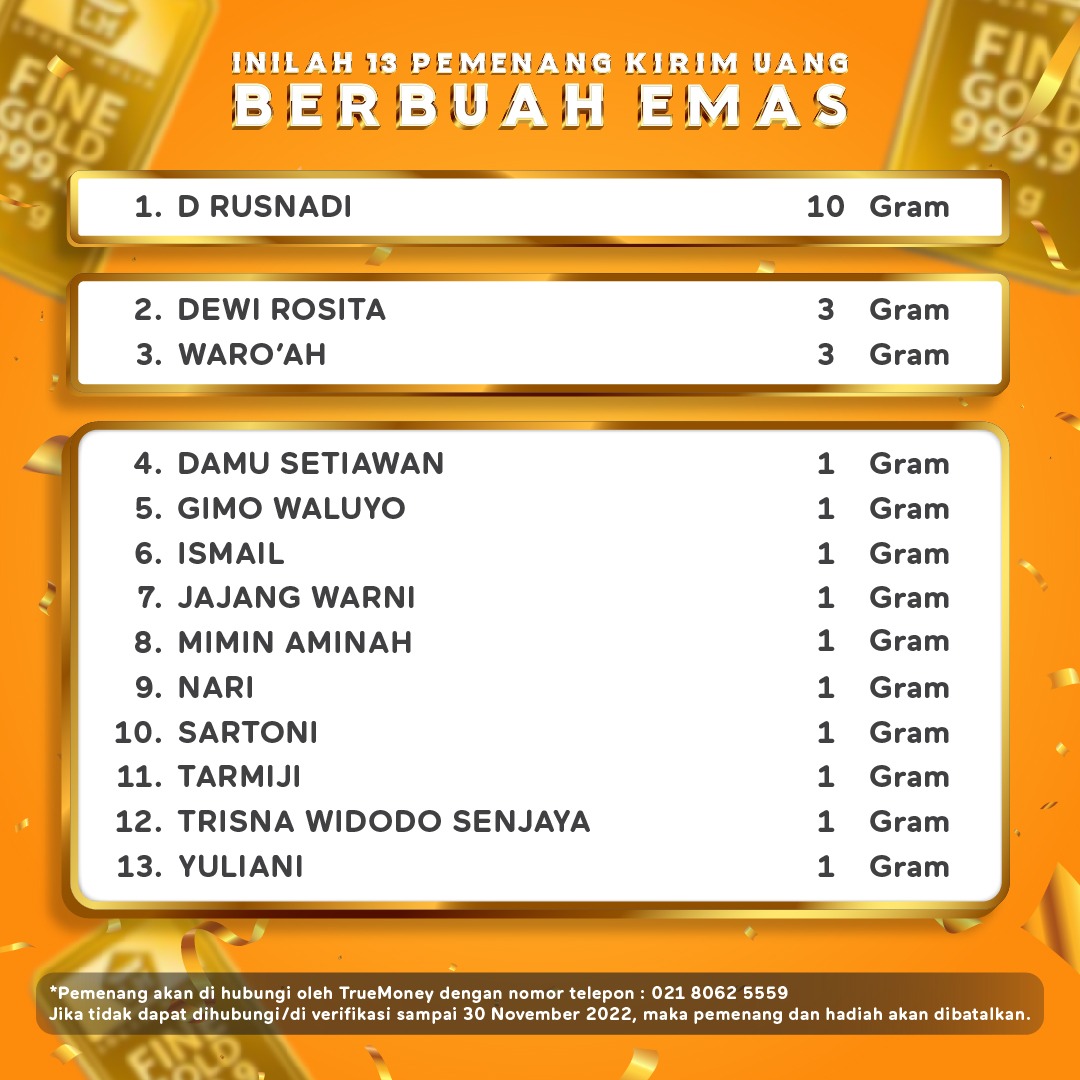 13 Winner Kirim Uang Berbuah Emas
Winner I (Prize Gold @10Gram)
D RUSNADI - 6289X8X56XXXX
Winner II (Prize Gold @3Gram)
DEWI ROSITA - 6282X3X57XXXX
Winner III (Prize Gold @3Gram)
WARO'AH - 6285X1X26XXXX


10 Winner Prize Gold @1Gram
DAMU SETIAWAN - 6281X8X48XXXX
GIMO WALUYO - 6285X3X61XXXX
ISMAIL - 6281X8X45XXXX
JAJANG WANRI - 6285X2X72XXXX
MIMIN AMINAH - 6289X5X61XXXX
NARI - 6287X4X65XXXX
SARTONI - 6285X9X36XXXX
TARMIJI - 6289X5X02XXXX
TRISNA WIDODO SENJAYA - 6285X2X33XXXX
YULIANI - 6285X4X91XXXX
This information was conveyed directly to each winner via WhatsApp Truemoney with the number: +62813 8003 3868
And each winner will be contacted by TrueMoney with phone number: 02180625559
If the winner cannot be contacted, does not provide a response or data verification by the 30 November 2022 deadline, the winner and the prize will be canceled by Truemoney, according to the Terms And Conditions that have been set.
For more information, please contact Truemoney Customer Service below:
Operational Hours 08.00 - 17.00 WIB Every Day